I used to attend a church where the pastor often said something like, "You are too small for your life to be all about you." I couldn't agree more. One of the challenges that we have is time, right? I'm super busy as a mom and a consultant and a creative person. It can be really hard to make time to give away.
In addition, it can be overwhelming to think about all the needs around me. Where do I start? Which needs are most urgent or important – or which are important to me? I love what Andy Stanley says about that issue. His call to those in his audience has always been to do for one what you wish you could do for ALL. The reality is that most of us are so blessed. Dee puts it like this, "We are blessed to be a blessing to others."
CNN recently covered a study about volunteerism in the U.S. In the show, we talk about the statistics, including the fact that only 1 in 4 Americans volunteers. On the latest episode of the Southern Fried Girlfriends podcast, Dee and I chatted with our girlfriend Jewel Hazelton. We talked with Jewel about her experience as a volunteer and how a lifetime of volunteering has improved her life (she started as a Girl Scout and continues to give her time away!).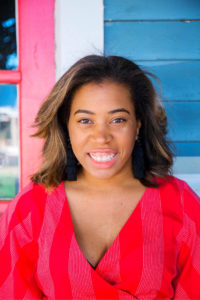 Born and raised in Atlanta, Georgia. Jewel Hazelton is a seasoned digital marketing expert and the founder of the lifestyle blog After Sunday Dinner. Jewel started her blogging career in 2010 after she decided to transition from her career as a magazine journalist. By day she works as a social media manager for a technology company.
In her free time, she enjoys spending time with her serving her local community through her leadership roles with the Junior League of Atlanta and being an active member of Passion City Church. When she's not giving back to the community she grew up in she enjoys spending time with her family, trying out new restaurants, traveling to new destinations, taking cooking classes and practicing yoga.
Listen to Episode 21: The Value of Giving Time Away here or subscribe via iTunes, Stitcher, Google Play, and more by searching for Southern Fried Girlfriends Podcast on your favorite podcast app. Swing on over to The Southern Fried Girlfriends Facebook page to chat about this topic, get some other resources, and look out for my Monday Chat Live there too!
Hey, one more thing! Are you getting my newsletter? If not, be sure to sign up here.
Resources and References from the show: